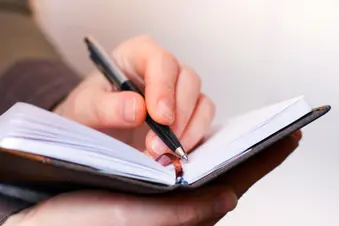 Respiratory viruses sometimes hit you in pairs, meaning you can catch a cold or the flu along with COVID-19. It's called "coinfection," but as far as scientists can tell right now, it doesn't happen very often. One review found that less than 1% of people with COVID-19 have also caught the flu at the same time. 
In 2020, Israeli scientists dubbed a flu-COVID coinfection as "flurona." It's important to note that while the names are combined, the viruses are not. They're still two distinct viruses that you can catch at the same time. 
There's evidence that when you're infected with a virus, "it can sometimes be harder to get a second viral infection on top of that," says Luci Leykum, MD, chief clinical officer at Harbor Health in Austin, TX. 
There are several reasons why this seems to be the case. Your cells may be a poorer environment for a second virus to take hold. Or proteins on the surface of the cell are expressed a little differently right after an infection. But we don't know yet whether this effect, called viral interference, works in the same way with the viruses that cause COVID-19 and the flu. Scientists are still doing research to find out.
There was a major drop in cold and flu illnesses at the beginning of the COVID-19 pandemic. But by spring 2021, flu and other virus activity began to rebound. This means a higher chance of coinfection. If you do get sick, here are some expert tips on how to get well.
Stay Home
You probably won't need to go to the hospital to heal from a respiratory virus. Instead, it's best to stay at home and focus on getting better. 
"We just have to use common sense and wash our hands, stay home if we're sick, and wear masks in public if we're having symptoms," says Arti Madhavan, MD, specialist-in-chief of family medicine at Detroit Medical Center.
Some people around you may have a weaker immune system, so you'll need to be extra careful not to spread the virus to them. 
Get Tested for Flu and COVID-19
If you start having cold-like symptoms, you should get tested for the flu and COVID-19. This is especially true if you're more likely to get really sick or die from these illnesses. 
You might get very sick from the flu or COVID-19 if you:
Are older than 50

Are pregnant

Have more than one health condition

Have asthma or other lung diseases

Are obese

Have a weakened immune system
If it turns out you have the flu or COVID-19, your doctor can tailor your treatment to include medicine for that specific illness. But antiviral medicines for COVID-19 and the flu only work when you take them soon after having symptoms, which is why doctors advise people to take action quickly. "Don't wait to see how you feel. Just come in and get tested," Leykum says.
Some public health labs use a test that checks for both the flu and COVID-19. It helps health officials track each disease, saves time and testing materials, and may give you faster test results.
Monitor and Treat Your Symptoms
The symptoms of a cold, the flu, and COVID-19 can look and feel similar. They include a stuffy nose, tiredness, and muscle aches. No matter which virus causes your symptoms, if they're mild, the treatments are the same. Here are some things you can do:
Drink fluids.
Sleep more.
Ask your doctor about over-the-counter drugs, such as acetaminophen or ibuprofen.
If you're likely to get very sick from COVID-19, your doctor could prescribe an antiviral medicine to help avoid serious illness. The ones you take in pill form at home are molnupiravir (Lagevrio) or nirmatrelvir with ritonavir (Paxlovid). You'll need to start these drugs within 5 days of testing positive for COVID-19 or the start of symptoms. There's also an antiviral for the flu known as oseltamivir (Tamiflu). You'll take it within 48 hours of the start of symptoms.
It's safe to take flu and COVID antivirals at the same time. While they aren't a cure for COVID-19 or the flu, they can stop the virus from multiplying. This means your symptoms should be milder, and you probably won't need hospital care.
If you don't have a family doctor, some communities offer "test and treat" centers where you get tested for the flu or COVID, and a doctor calls in an antiviral prescription all in the same visit.
Go to the ER right away if you have trouble breathing. Viruses that cause the flu or COVID-19 can damage your lungs. And the common cold virus can narrow the tubes that send air down to your lungs, causing asthma-like symptoms. Before you go to the hospital, call first to see if there are any special rules for people with COVID-19. If you are hospitalized, your doctors may treat you with the antiviral medication remdesivir (Veklury).
Scientists are still studying whether a coinfection makes your symptoms twice as bad. Some lab studies show that certain flu viruses can make the effects of SARS-CoV-2 – the virus that causes COVID-19 – worse. They were animal studies, though, so we'll need more research on humans. Right now, we just don't have enough information to know what happens to people.
Call Your Doctor
Don't hesitate to check in with your health care provider if you're feeling sick or have questions about an illness. They'll want to know if your symptoms worsen or if you have another health condition. And they'll share advice on how to get better at home and let you know if it's time to get medical care.
A vaccine can protect most people against future COVID-19 and flu infections. Be sure you're up to date on your COVID-19 boosters, too. The CDC website or your doctor can guide you on how many shots you need and when. These shots help keep you from getting really sick even after you've already caught either virus. But you don't want to get a vaccine while you're still under the weather. Your doctor can tell you how long you'll need to wait.
Show Sources
Photo Credit: diovp / Getty Images
SOURCES:
Arti Madhavan, MD, specialist-in-chief of family medicine, Detroit Medical Center.
Luci Leykum, MD, chief clinical officer, Harbor Health, Austin, TX.
Frontiers in Medicine: "COVID-19 and Influenza Co-infection: A Systematic Review and Meta-Analysis."
Cell Research: "Coinfection with influenza A virus enhances SARS-CoV-2 infectivity."
CDC: "COVID-19: What To Do If You Are Sick," "Flu: What To Do If You Get Sick," "COVID-19 Treatments and Medications," "Factors That Affect Your Risk of Getting Very Sick from COVID-19," "Pregnant and Recently Pregnant People," "Changes in Influenza and Other Respiratory Virus Activity During the COVID-19 Pandemic – United States, 2020-2021," "People With Moderate to Severe Asthma," "Stay Up to Date with COVID-19 Vaccines Including Boosters."
Morbidity and Mortality Weekly Report: "Decreased Influenza Activity During the COVID-19 Pandemic – United States, Australia, Chile, and South Africa, 2020," "Changes in Influenza and Other Respiratory Virus Activity During the COVID-19 Pandemic – United States, 2020-2021."
American Hospital Association: "Flurona and Its Impact on Flu Season."
National Institutes of Health: "Influenza and COVID-19."
Journal of Leukocyte Biology: "From virus to inflammation, how influenza promotes lung damage."
HHS.gov: "What are oral antivirals?"
American Medical Association: "Questions your patients may have on COVID-19 and flu coinfection."